Argentina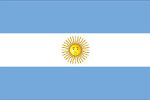 In 2019, Argentina had 200 cooperation actions, projects and programs under execution. Initiatives were mainly implemented in the framework of Bilateral SSC (53.5%), while 32% corresponded to Regional SSC and, the remaining 14.5%, to Triangular Cooperation. Argentina predominantly participated as provider in the framework of bilateral initiatives, while combining the first provider (through capacity transfer) and recipient roles, in Triangular Cooperation.
Through these exchanges, Argentina could share its experience in the Agriculture and livestock, Legal and judicial development and Human Rights, Industry, Health, and Transportation and storage sectors. Exchanging with other countries contributed, in turn, to strengthen Argentinean capacities in Environment, Education, Strengthening institutions and public policies, Disaster management and Health, among other sectors.
Throughout 2019, Argentina exchanged with other regional and extra-regional partners, among which Chile, Brazil, Paraguay and Uruguay stand out. This country's participation in that year's SS and Triangular Cooperation, mainly contributed to the achievement of SDG 2 (Zero hunger), SDG 11 (Sustainable cities and communities) and SDG 9 (Industry, innovation and infrastructure).