Costa Rica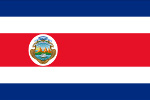 Throughout 2019, Costa Rica had 149 cooperation actions, projects and programs under execution. The largest part of these initiatives was implemented through Regional SSC (44%), followed, in the same proportion, by those developed through Bilateral SS and Triangular Cooperation (28% each). Guatemala, Panama and El Salvador stood out among its main partners.
Although Costa Rica combined the exercise of different roles in the three modalities which are recognized in the Ibero-American space, its increasing participation as provider in Triangular Cooperation initiatives should be highlighted. This way, it could transfer experiences and lessons learnt in terms of Environment, Education and Energy. In turn, this country also strengthened its own capacities and knowledge in Disaster management, Health, Environment, Agriculture and livestock, Legal and judicial development and Human Rights, Education and Enterprises, among other sectors.
As a result of efforts made in the framework of this cooperation, Costa Rica was mainly able to contribute to advance the achievement of SDG 3 (Good health and well-being), SDG 11 (Sustainable cities and communities), SDG 13 (Climate action) and SDG 9 (Industry, innovation and infrastructure).