Dominican Republic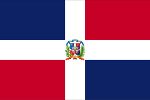 In 2019, the Dominican Republic participated in 109 cooperation actions, projects and programs. These initiatives were executed through the different modalities recognized in the Ibero-American space, being Regional SSC (45%) the most significant. Bilateral SSC and Triangular Cooperation initiatives followed (29% and 26% respectively). Partners with which it concentrated the largest part of these exchanges were Costa Rica, Mexico and Panama.
The Dominican Republic predominantly acted as recipient in Bilateral and Triangular initiatives, in sectors such as Disaster management, Strengthening institutions and public policies, Health and Environment. However, its increasing participation as provider in Triangular Cooperation initiatives through experiences related to Management of public finances and Strengthening institutions and public policies, should be stressed.
As a result of efforts made in the framework of these exchanges, SS and Triangular Cooperation in which the Dominican Republic participated could contribute to advance the achievement of SDG 16 (Peace, justice and strong institutions), SDG 3 (Good health and well-being) and SDG 13 (Climate action).