Ecuador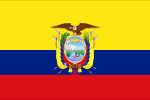 Throughout 2019, Ecuador had 116 cooperation actions, projects and programs under execution. Bilateral and Regional SSC initiatives represented, in each case, 4 out of 10 of the total, while 23% corresponded to Triangular initiatives. Chile, Peru and Colombia stand out among Ecuador's main cooperation partners.
Ecuador acted as recipient in most exchanges, which allowed this country to learn from the experiences of other partners in sectors such as Environment, Agriculture and livestock, Disaster management and Health, among others. As provider, Ecuador contributed to strengthen other countries' capacities in topics related to Strengthening institutions and public policies, Employment, Environment and Political participation and civil society.
As a result of efforts made in the framework of these exchanges, Ecuador's SS and Triangular Cooperation could contribute to advance the achievement of SDG 11 (Sustainable cities and communities), SDG 16 (Peace, justice and strong institutions), SDG 2 (Zero hunger) and SDG 15 (Life on land).