El Salvador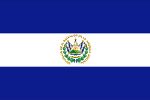 During 2019, El Salvador had 149 cooperation actions, projects and programs under execution. The largest part of these initiatives was implemented through Bilateral SSC (39%). In terms of relative participation, Regional (33%) and Triangular (28%) initiatives followed.
Although El Salvador participated in 2019's cooperation under a predominantly recipient role, its increasing contribution as first provider in Triangular Cooperation should be stressed. Exchanges enabled this country to strengthen its knowledge and capacities in the Health, Legal and judicial development and Human Rights, Disaster management and Agriculture and livestock sectors, among others. El Salvador could also transfer its accumulated experience in Legal and judicial development and Human Rights, Enterprises, Environment and Transportation and storage, among others.
Three Central-American partners should be highlighted in the framework of El Salvador's SS and Triangular Cooperation during 2019: Costa Rica, Honduras and Guatemala. Through this cooperation, El Salvador could contribute to the region's progress on SDG 3 (Good health and well-being), SDG 16 (Peace, justice and strong institutions) and SDG 13 (Climate action).