Mexico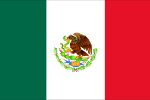 During 2019, Mexico had 292 cooperation actions, projects and programs under execution. In 65% of the cases, initiatives were implemented through Bilateral SSC. 20% was executed through Regional SSC and 15% corresponds to Triangular initiatives.
Mexico acted as provider in around one half of bilateral exchanges. Meanwhile, in almost the other half, it simultaneously acted as provider and recipient, its cooperation being strongly "bidirectional". This country contributed to support its partners' capacities in the Agriculture and livestock, Environment, Strengthening institutions and public policies and Disaster management sectors, among others. Its capacities were strengthened in different matters related to Disaster management, Environment, Strengthening institutions and public policies, Other services and social policies and Health.
In these almost 300 exchanges, Mexico mainly associated with Chile, Colombia, Costa Rica and Honduras and its cooperation contributed to advance the achievement of SDG 11 (Sustainable cities and communities), SDG 2 (Zero hunger) and SDG 16 (Peace, justice and strong institutions).