Panama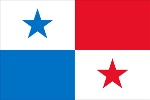 Throughout 2019, Panama had 108 cooperation actions, projects and programs under execution. More than one half (56%) of the initiatives were implemented through Regional SSC, 26% was executed under the Bilateral SSC modality and the remaining 18%, through Triangular Cooperation. Part of these exchanges were mainly developed with Costa Rica, Guatemala and Honduras.
Panama acted as provider in most cases, its capacities and knowledge being strengthened in different sectors such as Disaster management, Environment, Strengthening institutions and public policies and Enterprises, among others. It only exercised the recipient role in specific occasions, sharing its experience in Industry, Environment and Political participation and civil society.
As a result of efforts made in the framework of these exchanges, Panama's SS and Triangular Cooperation could contribute to the region's progress on SDG 13 (Climate action), SDG 11 (Sustainable cities and communities), SDG 9 (Industry, innovation and infrastructure) and SDG 16 (Peace, justice and strong institutions).