Peru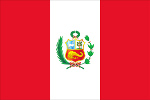 Throughout 2019, Peru had 169 cooperation actions, projects and programs under execution. One half of these initiatives were implemented through Bilateral SSC, 30% was developed through Regional SSC and the remaining 20% was executed in the framework of Triangular Cooperation.
Overall, Peru combined the exercise of the recipient (mainly) and the provider roles. This combination enabled Peru to strengthen its capacities and knowledge in sectors such as Environment, Strengthening institutions and public policies, Health and Disaster management, among others. In addition, it could also share its accumulated experience in Other services and social policies, Water supply and sanitation, Agriculture and livestock, Education, Strengthening institutions and public policies and Environment.
Chile, Colombia and Mexico stood out as Peru's main partners. Through these almost 170 SS and Triangular Cooperation initiatives, this country contributed to the achievement of SDG 11 (Sustainable cities and communities), SDG 16 (Peace, justice and strong institutions), SDG 3 (Good health and well-being) and SDG 15 (Life on land).