Spain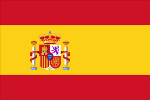 Throughout 2019, Spain had 46 cooperation actions, projects and programs under execution. Almost one half of these initiatives (21, corresponding to 46% of the total) were implemented under the Triangular modality in which Spain always acted as second provider, supporting capacity transfer. The remaining initiatives (25, corresponding to 54%) are explained by Regional SSC.
Triangular Cooperation exchanges during 2019 enabled Spain to support the strengthening of its Ibero-American partners in diverse matters which are mostly related to the Environment, Legal and judicial development and Human Rights, Strengthening institutions and public policies and Management of public finances sectors, among others. Meanwhile, in the framework of Regional SSC, Spain exchanged experiences in Culture, Strengthening institutions and public policies and Education.
Although Spain's cooperation involved different partners, exchanges with Uruguay, Argentina, Brazil, Costa Rica and Chile, stood out. Its 46 initiatives could contribute to advance the achievement of SDG 11 (Sustainable cities and communities) and SDG 16 (Peace, justice and strong institutions).