Uruguay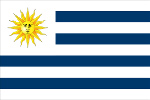 Throughout 2019, Uruguay had 149 cooperation actions, projects and programs under execution. Most of these initiatives were implemented through Bilateral SSC (44%), closely followed by those developed through regional and triangular exchanges (38% and 18% respectively). In the framework of this cooperation, Uruguay's main partners were Argentina, Brazil and Paraguay.
As has been the case in the past, Uruguay participated in this cooperation by combining the provider and recipient roles in very similar proportions. As a result of this knowledge and experience exchange with other countries, Uruguay could strengthen its capacities in sectors such as Education, Environment, Transportation and storage and Health. In addition, it transferred part of its experience and good practices in the Energy, Strengthening institutions and public policies and Management of public finances sectors.
SS and Triangular Cooperation in which Uruguay participated throughout 2019 could contribute to the region's progress on SDG 11 (Sustainable cities and communities), SDG 9 (Industry, innovation and infrastructure) and SDG 3 (Good health and well-being).