Venezuela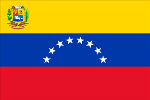 Throughout 2019, Venezuela had 53 cooperation actions, projects and programs under execution. Nine out of ten of these initiatives were implemented in the framework of Bilateral SSC (53%) and Regional SSC (38%). Only 9% was developed under the Triangular modality.
Venezuela participated as recipient in most exchanges, which allowed this country to strengthen its capacities and knowledge in different topics mainly related to the Agriculture and livestock, Education, Health, Environment and Other services and social policies sectors. When it acted as provider, Venezuela shared its experience on Education, Energy and Health, among other sectors.
Cuba and Brazil stood out as its main partners in 2019 and, altogether, its participation in this year's SS and Triangular Cooperation could contribute to the achievement of SDG 3 (Good health and well-being), SDG 9 (Industry, innovation and infrastructure) and SDG 11 (Sustainable cities and communities).