Cuba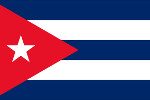 During 2019, Cuba participated in around 250 cooperation actions, projects and programs. Eight out of ten initiatives were implemented through Bilateral SSC. The remaining 18% was distributed in similar proportions between Regional (10%) and Triangular (8%) initiatives.
Although Cuba combined the exercise of several roles, it mainly acted as provider in terms of Bilateral SSC, these initiatives accounting for almost 86% of the total. Through this cooperation, Cuba contributed to strengthen capacities of a predominantly social dimension in sectors such as Health, Education and Other services and social policies, among others. On the other hand, and as recipient, it could enhance its experience in economic-related matters such as Agriculture and livestock, Extractive and Industry, apart from strengthening its capacities in Disaster management.
In order to implement these 243 initiatives, Cuba associated with several countries among which Mexico, Colombia and Argentina stand out. Through these exchanges, Cuba contributed to the achievement of SDG 3 (Good health and well-being), SDG 4 (Quality education) and SDG 11 (Sustainable cities and communities).